Melbourne students game for many sports
Published on 11 April, 2013
Around 50 staff and students from CQUniversity Melbourne recently took advantage of warm sunshine to visit Fawkner Park for the annual campus sports and activities day...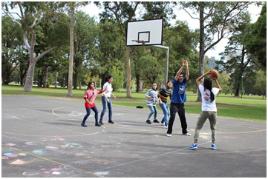 The event was a huge success, with participants enjoying a variety of sporting activities including cricket, soccer, basketball and badminton.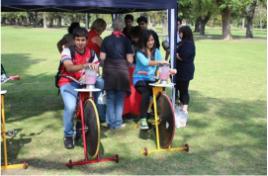 Among the popular activities were three 'bike 'n blend' bikes which enabled students to use furious pedalling to power and blend their own fruit smoothies.
Another highlight was 10 staff taking on two large teams of students in an impromptu, yet fast-paced and highly competitive game of 'tunnel ball'. . . the students won!
To cap off a great day, a delicious barbecue lunch was enjoyed by all. Many thanks go to staff from all areas of campus that joined in and helped out to make the day a success. Special thanks also goes to Kathleen and Gerald of the Campus Services team for their tireless efforts in organising another very successful student event for the Melbourne Campus.
For more pictures, please 'Like' the 'CQUniversity International' page on Facebook.