Coal seam gas and water event on an even 'Kele'
Published on 10 October, 2012
CQUniversity researcher Ben Kele is the lead presenter for a course on Coal Seam Gas and Water to be staged in Sydney by the International Centre of Excellence iin Water Resources Management (ICE WaRM).
The course, to be held on November 2, will address the formation, production, treatment and management of water associated with coal seam gas (CSG) operations.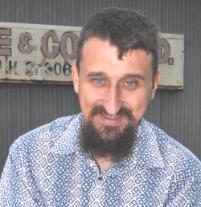 CQUni researcher Ben Kele is leading a national event in Sydney
Presenters will cover the 'mission-critical' issues of community engagement, knowledge sharing, recycled water applications, environmental concerns, and best-practice water treatment technologies.
The course is aimed at coal seam gas producers, environmental managers, regulators, researchers and water users. Other presenters on the program are representing industry, university and government organisations.
Based at Rockhampton Campus, Mr Kele will draw on his experience as a doctoral student and as Director of Midell Water, a consulting firm with a strong track record in this field.
His research has focused on the management of sodium adsorption ratio (SAR) and salinity and other contaminants of concern in 'associated water', with a number of CSG companies. He has also developed, patented and successfully commercialised two treatment technologies. Through Midell Water, Mr Kele is involved in the design, construction, and operation of treatment facilities and reuse schemes. He also lectures in ICE WaRM's Masters program.
Ben notes that the Sydney course includes a presentation by Arris Director Jim Kelly. CQUniversity has an MOU with Arris to collaborate on research projects, with a focus on water, mines, and irrigation.
"Arris is working with us on the Westside CSG project; and our Plant Sciences researchers have some projects in the pipeline with them as well," Mr Kele said.
LINK also to CQUni involved as partnership tests volcanic rock treatment of CSG water