IRIS eyes are smiling thanks to visit by commercialisation guru
Published on 12 October, 2011
CQUniversity researchers from the Institute of Resource Industries and Sustainability (IRIS) met this week with the recent CEO of the Australian Institute of Commercialisation, Dr Rowan Gilmore and members of the business community to discuss the challenges and opportunities that exist for regional business and industry research.
Senior research officer Dr Susan Kinnear said she anticipated this week's session would be a huge benefit to CQUniversity researchers.
By work experience student Zara May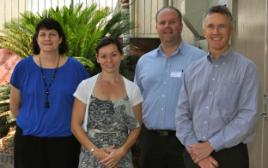 Helen Newell (Innovation Coach - Central Region at Australian Institute for Commercialisation), Dr Susan Kinnear from IRIS, Cameron Johns (Innovation and Collaboration Manager from AIC) and visitor Rowan Gilmore"It will help researchers know how to work with local businesses," Dr Kinnear said.
She claimed it would assist them with many of their research projects and could potentially help solve a number of problems affecting regional business.
Various members of the community were keen to see the effects of the IRIS studies and examinations on the region in the near future.
Dr Gilmore only recently stepped down from his role with the Australian Institute of Commericalisation, and is now concentrating on his own high-tech companies which design, manufacture and export satellite and microwave telecommunications components and systems.
He also serves on several government advisory committees and has published widely on the topics of innovation, commercialisation and industry-research collaboration.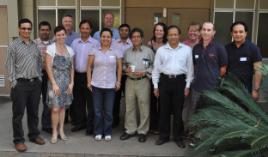 Researchers gather to talk about challenges and opportunities for business research