Duo to inspire Central Queensland audiences with musical flair
Published on 30 May, 2012
Internationally acclaimed New Zealand and Australian musicians Sarah Court and Matthew Marshall will present a rare performance of sultry Spanish songs and English folk music in a series of shows for Central Queensland audiences.
Kicking off in Mackay on June 1, the duo will also tour in Rockhampton and Bundaberg.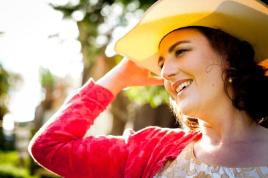 New Zealand mezzo soprano Sarah Court will team up with Matthew Marshall for a series of CQ concerts.The combination of mezzo soprano singer Sarah's beautiful operatic voice and Matthew's emotional classical guitar tunes will give audiences the opportunity to experience a performance that has not yet been heard in Central Queensland.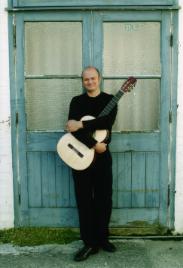 Leading classical guitarist Matthew Marshall will impress audiences in Mackay, Rockhampton and Bundaberg.
"This is the first time we've worked together but, as we are both from New Zealand, we have been aware of each other's work for some years," Matthew said.
"Sarah moved to Rockhampton with her partner which has created a great opportunity for us to collaborate on some performance projects."
Matthew said the music will range from sultry Spanish songs to poignant English folk songs and inspiring music from Australia and New Zealand.
"There will also be some virtuoso solo guitar pieces from Brazil," he said.
Music lovers of all ages are invited to experience the inspiring performance which caters for a wide audience.
"The performance will appeal to those who are interested in and appreciate international quality classical music performance and those who love the emotional power of strength of an exceptional operatic voice combined with the virtuosic guitar."
Matthew is Professor and Dean of the School of Creative and Performing Arts at CQUniversity, Mackay and is one of New Zealand's leading classical guitarists.
Sarah has performed throughout New Zealand and was an emerging artist with the NBR New Zealand Opera and has performed with the New Zealand Symphony Orchestra.
The first performance will be held at the CQ Conservatorium of Music, CQUniversity Mackay, Boundary Road from 7.30pm on June 1.
Sarah and Matthew will then travel to Rockhampton for a free performance on Tuesday, June 5, from 12.30pm at CQUniversity in the Helene Jones Room, and then on to Bundaberg on Wednesday, June 6 from 12.30pm with a free performance in Lecture Theatre 1 at CQUniversity.
For more information or to book, phone 4940 7800.