Andrew not held back by injury, looking forward to starting uni
Published on 26 September, 2012
A broken back wasn't going to stop Andrew Thompson from taking on a new career.
The former business owner had a life-changing decision to make six months ago after falling off a ladder and badly injuring his back while working on his house.
"I decided to go back to university while I was lying in hospital with a broken back," Andrew said.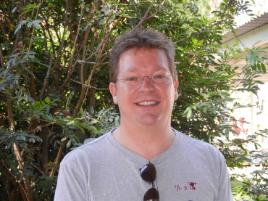 Andrew Thompson is enrolled at CQUniversity through the STEPS program. "I was unable to work, couldn't earn an income and the doctors told me it would be two years before they could give me further recommendations about when I could work again."
Andrew was no longer able to continue his job as a building designer, drawing house plans and working on architectural aspects of buildings.
So he decided to complete the STEPS program and start the pathway to a career in Civil Engineering with a focus on materials handling.
"I need to have a job where I do not have to load my back and do physical work."
"I'm using this as a stop-gap towards a degree as well as giving myself time to get my back right again."
While Andrew is still recovering from his injuries, he hopes to start his Engineering program in 2013.
He said STEPS had allowed him to meet people from all walks of life who he would not have normally interacted with as a building designer.