Nursing students to enjoy Florence Nightingale window, thanks to retired doctor
Published on 14 May, 2012
Nursing students and academics at CQUniversity can enjoy walking past a beautiful stained glass window depicting Florence Nightingale, thanks to a donation by a prominent obstetrician and gynaecologist who created the artwork in his retirement.
Dr Tom Dewar said the location would be fitting, since Florence Nightingale was a practical nurse and nurse educator as well as an academic who excelled at languages, history, philosophy, theology and statistics.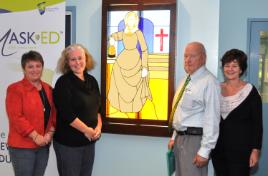 Retired doctor Tom Dewar shows his artwork to CQUniversity Nursing academics L-R Assoc Prof Kerry Reid-Searl, Justine Connor and Julie Bradshaw
"She was a reformer and radical theologian who was called upon by God three times," he said. "Her renown as the Lady with the Lamp in the Crimean War was really only a small part of her inspiring life."
Dr Dewar recalls the (originally) controversial movement to establish nursing as a university-level program, around 20 years ago, including the pioneering work by former director of nursing Norma West OBE and foundation dean of health science Professor Amy Zelmer.
"There's always been an admiration between the medical and nursing professions," he said.
Nursing is now a flagship program for CQUniversity. Fittingly, the stained glass window will be displayed in the foyer of the Amy Zelmer Building, which is home to the School of Nursing and Midwifery on Rockhampton Campus.
Dr Dewar's stained glass window was a feature of ceremonies for International Nurses Day on May 12, and it will also be in the spotlight during a conference in October to celebrate 20 years of nursing programs at CQUniversity.
Speaking during the May 12 event as be presented the artwork, Dr Dewar said he had been captivated by the concept of light passing through a leadlight panel to tell a story.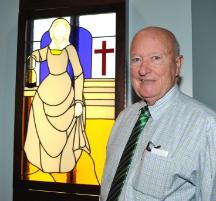 Dr Dewar with the stained glass artwork
"The red crucifix signifies the part God played in her (Florence Nightingale's) life. He called her three times, and this powerful stimulus altered the course of her life and sustained her," he said.
"History remembers her as The Lady with the Lamp. Florence elevated the status of nursing to a noble profession and initiated a formal training course.
"Florence was home-schooled by her father so there was a huge male influence. She understood Latin, Greek, German, Italian, History and Philosophy.
"I have used the term Reformer rather than Feminist. Florence was also an administrator and a whistleblower. Florence completed her education by spending several years in Europe.
"This Lady did not succumb to the cult of celebrity and refused a State funeral and interment in Westminister Abbey."