Expo aims to deliver more study and career options
Published on 06 November, 2012
CQUniversity is offering support to secondary school students who may be experiencing difficulty in transitioning into employment or training with a host of career and study options at the upcoming Youth Pathways Expo on Tuesday, November 13.
The expo is aimed at students from Years 9 to 12 who may have disengaged from school, are experiencing learning difficulties or have a disability. It will enable them to connect with local employers and education and training providers to explore their career options.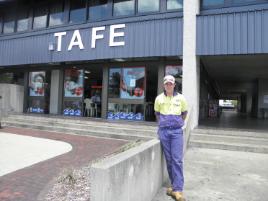 Andre Weeks is working for Mackay Regional Council while completing his plumbing apprenticeship. For young employees like Andre Weeks and Taylor Smith, support from organisations such as Pioneer Employment Services/Community Solutions and Ideal Placements, has turned their life around.
Andre is attending TAFE in Mackay to complete his apprenticeship in plumbing while also working as an apprentice plumber at Mackay Regional Council.
Taylor is participating in Certifice II in Retail through Hungry Jacks while also completing high school. Hungry Jacks manager Marty Mason is a supportive employer of young people and encourages various career paths within his organisation.
CQUniversity's Careers and Employment Service Coordinator Raleigh Wallace said CQUniversity aims to support students from all backgrounds in transitioning from secondary schooling through to tertiary education and beyond.
"The expo aims to provide students with information about future pathways after school, whether it is employment, training or further study at university and the support services available to them and their families," Mr Wallace said.
"CQUniversity believes all students deserve the opportunity to participate in further training to improve their qualifications and career opportunities."
The expo will include special guest speaker Paul Stanley (One Punch Can Kill) who will promote youth safety initiatives, the Mackay Sporting Wheelies Association and the Mackay Cutters.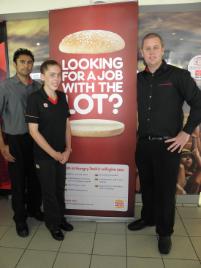 Taylor Smith (centre) is completing a Certificate II in Retail through Hungry Jacks thanks to the support of her supervisor Prabhot Grewal (left) and manager Marty Mason (right)Students attending will also go in the draw to win an iPad on the day.
The event is hosted by CQUniversity and supported by the Mackay Education, Employment and Transition Network (MEET), Ideal Placements, Pioneer Employment Service, Community Solutions, and Hot FM.
The event will be held at CQUniversity Mackay, Building 1 on Tuesday, November 13 from 11am to 6pm.