Library displays enrich learning experience for visitors
Published on 09 May, 2012
The CQUniversity Mackay Library Society will officially launch its new, state-of-the-art community exhibition cabinets, which have been purchased through on-going fundraising efforts by CQUniversity Library Society and Film and Arts Mackay.
The displays will feature a range of different exhibitions that will be rotated once every six weeks to keep the displays current and exciting.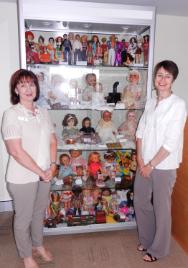 Mackay Campus Library Manager Pauline McNee and CQUniversity Mackay Library Society secretary Annie Webster are looking forward to officially launching the new exhibition cabinets at the Mackay Campus library. One of the main purposes behind the purchase of the exhibition cabinets was to enrich the learning experience of CQUniversity students, academics, researchers and community members when visiting the Library on campus.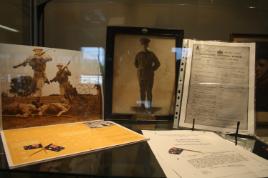 The current display coincides with Anzac Day. Organisers have earmarked future displays to include pottery from the Pioneer Potters, gemstones and jewellery from the Mackay Gem and Craft Society, a postcard exhibition from Artspace and a white glove display.
The official opening will be held on Saturday, May 19 at 5pm in Building 19 at CQUniversity Library, Boundary Road, Mackay.
The exhibition will be opened by well-known local identity Carmel Daveson and special entertainment will be provided by Central Queensland Conservatorium of Music lecturer Kim Kirkman on the harp. Drinks and finger food will be provided.
Community members are invited to attend, but bookings are essential for catering purposes. Please contact the CQUniversity Mackay Library on 4940 7536 or email mack-lib@cqu.edu.au by Monday, May 14 to RSVP.