Artists ready for an Appleton daze
Published on 04 February, 2013
Four artists have volunteered to become sleep deprived over a seven-day period as an experiment to see how their creative juices are affected.
CQUniversity's new Appleton Institute sleep research labs in Adelaide are providing the controlled environment for the 'sleep-deprived art' experiment next week on behalf of the Australian Network for Art and Technology.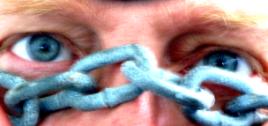 Appleton Institute's Professor Drew Dawson this week joined two of the participating artists on Radio National to talk about the link between sleep deprivation and creativity.
Artist and 'technoevangelist' Fee Plumley and visual and performance artist Thom Buchanan contributed to the interview on behalf of their group.
LINK HERE to listen to the Radio National interview or visit The Subjects blog site for the participating artists.
The participants will be deprived of stimulating food and drinks and will forgo access to the outside world, to the extent of not being sure whether it is night or day.
Professor Dawson described the project as 'like the Big Brother house without the swimming pool' and 'the hermit of the 21st century'.
"There is a long history of frenetic activity around the creative impulse ... there's been a long history of depriving people in order to drive creativity and spiritual awareness.
"We wanted to explore that and to reverse how people normally experience the creative process. We are isolating them and observing them," he said.
"We'll be looking at a whole bunch of measures around alertness, creativity, fluency.... we've just finished building what is probably the best facility of its kind anywhere in the world and this was a fantastic way ... to actually engage in something that the students will find much more interesting than normal science."