Asian Nursing students learn Aussie lingo and culture
Published on 21 February, 2013
For Nursing students arriving from Asia, finding their way around CQUniversity's Rockhampton Campus was not the biggest culture shock of Orientation Week.
The most confronting aspect would have been meeting a true blue Aussie codger who arrived with pyjama bottoms gaping open and gushing phrases like 'buggered' and 'dry as a dead dingo'.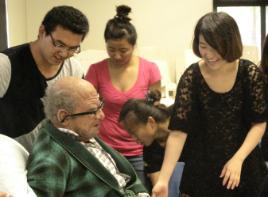 Newly-arrived Nursing students meet up with 'Stanley' aka a masked educator, Professor Kerry Reid-SearlAfter some initial banter, the codger was revealed as masked educator Professor Kerry Reid-Searl.
This experience was just one of several during a two-day Orientation familiarising newcomers with Aussie jargon and culture.
Associate Professor Trudy Dwyer, Kadie Cheney and Deb Austen devised a treasure hunt for colloquially-named items and locations including a 'dunny' and 'PJs'.
"The students had to phone a special number to find out their next stop on the treasure hunt," she said.
"We also hosted a party featuring Australian foods. It was all about getting them immersed in our Aussie culture and jargon before starting their Nursing studies."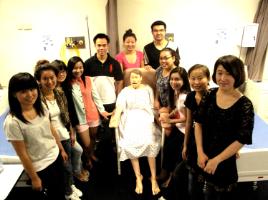 L-R Ada Zhu (China), Crystal Zhang (China), Elly Zhaz (China), Charlie Magne Cruz (Philippines), Pong Trisrivirat (Thailand via USA), Rita Mingue Gao (China), Frank Han (China), Jen Pumihic (Philippines), Jonah Marie Saletrero (Philippines), Xinyu Zhou (China), and Debbie Qiuying Wu (China)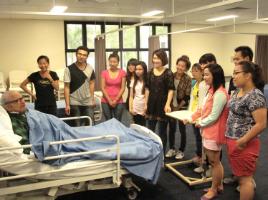 LINK for a larger image