CQUni proud to support the 'artistic landscape'
Published on 17 April, 2012
CQUniversity is proud to be a supporter of an art exhibition entitled Dichotomy of Place, opening soon at Gallery 6, Walter Reid Cultural Centre in Rockhampton.
Everyone is welcome to the exhibition opening from 6.30pm on Friday, April 27. The show will continue to be open between 9am-4pm daily until May 2.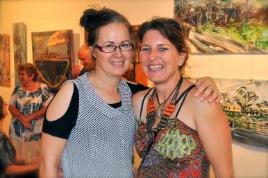 Ainslie McMahon and Veronika Zeil are ready to display their landscapes
The show is a contemporary expression of ideas by Rockhampton artists Ainslie McMahon and Veronika Zeil. The show of works is supported by a documentary film 'Eroding Connections', produced by local filmmaker, Peter Lawrence from CQUniversity.
Ainslie McMahon's multi-layered paintings are etched, sanded and towelled with paint, which reflects her response to the subject matter. Veronika Zeil's works explore transitions in the landscape caused by geological and organic processes as well as the transitions directed by humans through emotional, abstract, graphic acrylic paintings.
The exhibition has been shown since January at Bundaberg Regional Art Gallery, where it received a lot of positive feedback.
This project has been generously supported by RADF, CQUniversity and the Bundaberg Regional Art Gallery.