Uni students behind another successful Romp
Published on 21 May, 2012
Rockhampton's social calendar continued after Beef Week with a little something for the youngsters.
Thanks to organisation and hands-on involvement by our Learning Management (Early Childhood) students, the annual Romp in the Park was a resounding success at the Botanic Gardens.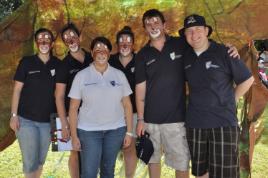 Early Childhood students L-R Cas Martin, Tegan McLeod, Tarina Scolen (white t-shirt), Siobhan Rodgers, John Lowry and Iain MacRae
Romp in the Park is held to celebrate early childhood with young children, their families and community.
The free day of fun-filled activites was built around the theme of 'language, actively connecting children to their world'.
The University engages in the event in conjunction with Under Eights Week, Early Childhood Australia, and Rockhampton Regional Council.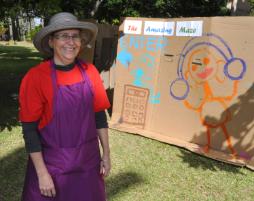 Lecturer Gillian Busch in front of the popular cardboard maze