From Fiji to Mackay, Reshmi says new role 'feels like home'
Published on 21 February, 2013
CQUniversity's new Medical Imaging senior lecturer Reshmi Kumar says relocating to Mackay with her young family was like coming back to her homeland of Fiji...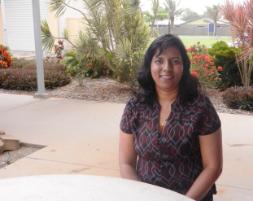 Reshmi Kumar, CQUniversity senior lecturer in Medical Imaging.
Reshmi is one of four new academic staff in the area of Medical Imaging and Medical Sonography at the Mackay campus. LINK here for story.
Having spent the past three years in New Zealand living and working, Reshmi said she always wanted to be part of a dynamic institute like CQUniversity and is looking forward to expanding her research while in Mackay.
"The state-of-art simulation labs and the program offered by CQUni appealed to me and I decided to take the opportunity to teach here," she says.
"I'm most looking forward to being able to help develop the Medical Imaging program further and to get involved in research in the field of medical imaging."
Reshmi has worked as an academic since 2001, with the bulk of her time focused on teaching and some on research.
"I had been involved in clinical work environments for over seven years but since taking up an academic position, I have had limited access as I was more focused on the teaching aspects."
Reshmi is looking forward to working with students in the new Medical Imaging and Sonography Laboratories, which she says are state-of-the art.
"I'm really looking forward to the interaction with students and other colleagues. I love to hear and discuss about how we are the 'eyes of medicine'.
"I have worked in an academic position in Medical Imaging in Fiji and New Zealand and nothing compares to the labs and facilities that CQUni has to offer to its students."
Reshmi is married with two children, aged nine and 18 months.