Getting runs on the board for youth mental health
Published on 28 March, 2013
CQUniversity and the Rotary Club of Rockhampton have signed up to ensure proceeds of the Rocky River Run will continue to help prevent anxiety and depression, reducing suicide risk in young people...
The two organisations have established the Rockhampton River Run Foundation for Prevention of Anxiety and Depression, consolidating a relationship developed between Rotary and the CQUniversity Psychology Wellness Centre.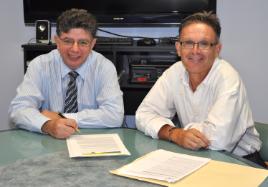 Rotary Club of Rockhampton President Neil Malick and Professor Kevin Ronan sign the agreement
The Foundation will help fund a study aiming to provide, and evaluate, services for anxiety-disordered youth and families at the Psychology Wellness Centre. This will boost the reach of effective intervention services and have a longer-term impact by reducing rates of depression and suicide risk in young people.
Rotary Club of Rockhampton President Neil Malick says the club has been pleased to direct proceeds from the annual Rocky River Run to support the Psychology Wellness Centre over several years.
"We are looking forward to stepping up the project to enable CQUniversity to broaden the interventions and to expand outreach into the wider community," Mr Malick says.
"There is no better outcome than to help our local young people."
Foundation Professor in Psychology Kevin Ronan says depression is a prominent risk factor for youth suicide.
"One of the most prominent risk factors for depression in youth is anxiety in younger childhood. In fact, research documents the fact that anxiety tends to precede depression in development. Anxiety is also a documented risk factor for suicide," he said.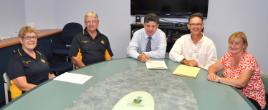 L-R Rotarians Julie Blair, Terry Loague and Neil Malick chat with Prof Kevin Ronan and Assoc Prof Bernadette Moore, Director of the Wellness Centre
"We have the tools to respond to this problem: interventions built around cognitive behavioural/social learning principles have been shown to greatly reduce anxiety symptoms in children."
Professor Ronan says the Foundation seeks to reduce barriers to engagement with children through increasing outreach and by reducing costs for the service.
"We are keen to find if 'lighter touch therapies' produce the same outcomes as longer more involved therapies? A related question is whether these lighter touch interventions can be delivered to parents to assist them to help their child manage and overcome their anxiety, versus having parents bring their child in for the services."
Details about the next Stanwell Power Station Rocky River Run in June are available via www.rockyriverrun.com with online registration now open.
The Psychology Wellness Centre is an intern training and research centre. It offers help with everything from couples counseling and parenting advice to anger management and therapy for stress, anxiety and depression. A large range of therapy, consultation and assessment services are available at a low cost and the initial assessments are free of charge.
Bookings can be made via wellnesscentre@cqu.edu.au or (07) 4923 2233 or via the Centre website www.cqu.edu.au/wellnesscentre .