Emma finds the whole world's a stage
Published on 15 March, 2013
CQUniversity Mackay's Emma McGuire will visit the United States in August to pursue a semester-long exchange program, as part of a new partnership between CQUniversity and Southern Utah University (SUU).
The third-year Bachelor of Theatre student, who specialises in Musical Theatre, will streamline her current program to meet the requirements of SUU's Bachelor of Fine Arts in Music Theatre, where she will complete the remainder of her degree.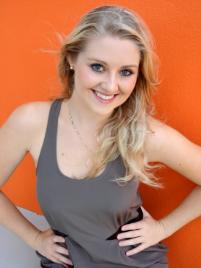 CQUniversity's Emma McGuire will head to Southern Utah University to begin an exchange program in August.Originally from Yeppoon, the 23-year-old said she was looking forward to the new experience.
"I'll be learning similar things in a completely different environment which will be fantastic.
"I've also always wanted to go to the US; there is something about it that has drawn me in, maybe it's the whole Hollywood and Broadway hype."
Emma will stay in residential housing on campus at SUU and is looking forward to immersing herself into SUU's program and the facilities on offer.
"It's not a big university by American standards but it will be a lot bigger than what I am used to. There's three performance spaces at SUU alone and the facilities on campus are second to none."
Emma has been busy saving to afford the exchange program, and hopes to do some travelling while over in the US.
"I've tried to obtain a good balance between my studies and work to save money for the exchange program because it is quite expensive just to get over there."
"I'm not sure it has kicked in yet, I might start to feel nervous or excited a week before I get on the plane to another country."
During her time at CQUniversity, she has been involved in a range of different productions including acting, singing, and dancing in Sweet Charity and How to Succeed in Business, as well as participating behind the scenes as assistant to the director and assistant stage manager.
"I've sung my whole life but I've really honed my acting skills since coming to Mackay," Emma says.
"I want to pursue film and screen acting when I finish my studies."
Emma says that, while the film and television industry is tough to break into, she is hoping the exchange program will add to her skill set upon graduation.
"It is a hard industry to crack, particularly in Australia where there isn't a lot of work but lots of people wanting to be involved."
"In the US, where the industry is huge, you can be a little fish in a very big pond but I'm hoping I can include an internship in my studies and meet a whole network of people who I can learn new things from."
"That's the main thing, to keep learning new things."