Sowing health benefits through community gardens
Published on 21 June, 2013
To celebrate Earth Day 2013, the CQUniversity Emerald Learning Centre once again partnered with Central Highlands Regional Resources Use Planning Cooperative (CHRRUP) and the Central Highlands Regional Council (CHRC) to highlight the benefits of this important day.
CQUniversity Emerald Learning Centre Operations and Project Manager, Gai Sypher chose to continue last year's theme, 'The Community Garden'.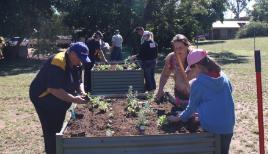 LINK for a larger image of the Duaringa Community Garden
"Last year was such a success with the launch of the Emerald Community Garden we decided to run a vermiculture and composting workshop to expand on the skills necessary for developing a permaculture system," Ms Sypher said.
The workshop was hosted by the Sapphire Gemfields Community Garden Club and was a huge success.
Community gardens around the world have been credited with an array of beneficial outcomes for participants, such as environmental education where participants learn about sustainable urban agriculture, biodiversity and improved waste management; and opportunities for training, employment and local economic development in the form of markets and food cooperatives. Nevertheless, the most significant and widely reported benefits are associated with individual and community health and well-being.
To ensure that the whole of the Central Highlands region could benefit from this incentive, the second part of the Earth Day Project saw the development of the community gardens at Duaringa and Springsure.
"The willingness and excitement of the community to develop these gardens is encouraging and shows that people do care about the environment and a healthier lifestyle. I hope to continue the University's partnership with this project next year," Ms Sypher said.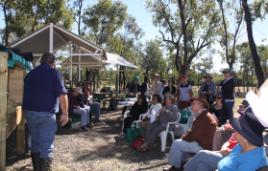 Vermiculture talks