Discus champ Taryn spinning through life
Published on 24 October, 2011
Bundaberg teen Taryn Gollshewsky spends hours in the gym building strength, hours with a discus in hand building technique and hours training younger kids at after-school sports, but there's plenty spinning through her mind as well.
The Exercise and Sports Science student is pursuing a degree with CQUniversity to help provide the theoretical background to her pursuits as an Australian youth discus representative.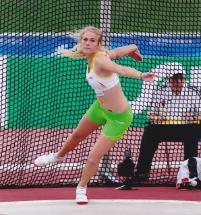 Bundaberg's Taryn Gollshewsky in competition mode
She also can see far enough into the future to realise her degree will help with career opportunities as a coach in the longer term
Taryn, aged 18, is a prospective champion in a range of sports, having represented Queensland in soccer and volleyball.
But her exploits in discus have led to appearances at the world 'youth' athletics championships in Italy in 2009 and the world 'junior' athletics championships in Canada in 2010.
While medals were elusive, both events provided plenty of experience and Taryn consoles herself that she will still be eligible for the under-20 'junior' championships in Spain next year, when she will be older, wiser and stronger.
Plaudits were easier to come by at the recent Australian University Games on the Gold Coast, where Taryn walked away with gold and silver medals.
Taryn has been the national champion for her age for the past 6 years (since age 13).
She is currently ranked 3rd in Australia in the Open Women's Discus, and is ranked 7th in the world for her age.
The Bundaberg teen's potential is also being recognised at Queensland level. Taryn won a Womensport Queensland Rising Star Award for athletics in 2010 and was this year's Clem and Sylvia Jones Emerging Athlete Award winner.
Apart from some entry fee assistance from Queensland Academy of Sport and some help from Bundaberg locals, Taryn's family has been funding her competition travel, so she is certainly keen to attract sponsors ahead of her competition in Spain next year.
Meanwhile, she'll continue to train with respected Bundaberg coach Les Kuorikoski, while juggling her university studies and work commitments with the after-school sports program.