Midwifery students celebrate completion of residential school
Published on 27 February, 2012
It was an intense week of theory and practical based work but 17 Graduate Diploma of Midwifery students were all smiles recently at the end of their last residential school at CQUniversity Mackay.
The midwifery students, many of whom travelled from all over Queensland for the week, were among the first to use the newly refurbished nursing and midwifery labs, complete with state-of-the-art equipment to enhance the learning experience.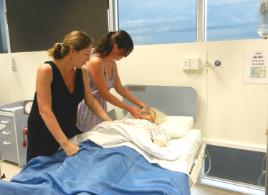 Midwifery students were impressed with the new equipment in the refurbished nursing and midwifery labs in Mackay
CQUniversity's Interim Midwifery Head of Program Jenny Davis said students learnt from guest lecturers in areas such as diabetes in pregnancy, breastfeeding and lactation, neonatal care and fertility.
Ms Davis said it was a good chance for students to combine existing knowledge, as well as to identify individual learning needs in preparation for program completion in June.
"Students will be able to apply for registration as midwives in metropolitan, rural or remote hospitals or community and home-based care, as well as in areas involving pregnancy, birth, neonatal, family and community health, women's health, sexual health and more," Ms Davis said.
A special presentation was made to thank staff for their valuable time and efforts in delivering a successful program. A celebratory lunch was held to finalise the residential school.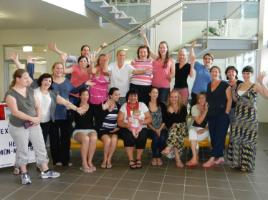 Graduate Diploma of Midwifery students celebrate with staff after a week of residential school activities