Global benefit unfolding thanks to sweet research results
Published on 06 December, 2012
A global benefit is unfolding thanks to more than a decade of CQUniversity research into the safety and health benefits of steviol glycosides (from the Stevia rebaudiana plant) for use as a natural intense sweetener.
Professor David Midmore says CQUniversity research led to steviol glycosides being approved by Food Standards Australia New Zealand but there is still work needed to achieve the goal of an Australian production and processing industry.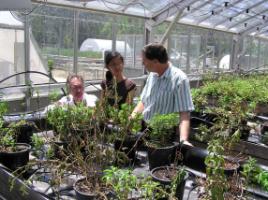 Kerry Walsh, Ria Reyes and David Midmore pictured in 2010 discussing Ria's research on the quality assurance of stevia
"However our research has developed a broader understanding of the steviol glycosides, not only from a biological significance but also for measuring and raising concentrations in plants," he said.
"Beneficiaries of the research are innumerable; a global benefit is unfolding in relation to the issues of obesity and diabetes associated with the consumption of high levels of dietary sugars."
Professor Midmore says various forms of stevia are now a common component in colas, in 'smart' sugar, in table-top sweetener markets and in organics markets.
Meantime, a group of CQUniversity academics are behind a new report on Further Development of the Stevia Natural Sweetener Industry, published by the Rural Industries Research and Development Corporation (RIRDC).
Authors on the 125-page publication include current staff Professor David Midmore, Professor Kerry Walsh, Geeta Gautam and Kylie Hopkins, former doctoral researcher Ria Reyes and Honorary Research Fellow Andrew Rank.
LINK for AUDIO of Professor Midmore talking about stevia on Radio National recently.
LINK for New publication on sweet prospects for Aussie crop
LINK HERE for more on CQUni's leadership on the introduction of stevia