Uni breaks ground on $9 million public-access Allied Health clinic
Published on 11 October, 2011
CQUniversity has broken ground on its public-access Allied Health clinic, which will help plug a gap in services for the Rockhampton community.
Construction on the facility begins this week and Acting Vice-Chancellor Prof Jennelle Kyd has conducted an official 'sod-turning' with help from Executive Dean Professor Graham Pegg.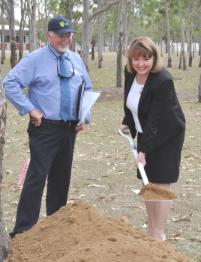 Professor Jennelle Kyd and Professor Graham Pegg perform the ceremonial sod-turning
Valued at $9 million, including equipment, the facility is part of a broader $12 million investment in new Allied Health programs in 2012. It will enable students to learn by working alongside qualified health professionals in the areas of oral health, occupational therapy, physiotherapy, podiatry and speech pathology.
Professor Jennelle Kyd says this facility will have a major community benefit, accommodating up to 160 public consultations a day and thus helping to bridge a gap in access to health services.
As well as consultation and treatment rooms, the clinic will include rehabilitation gyms, an Activities of Daily Living (ADL) kitchen and bathroom facilities as part of an integrated approach to treatment of chronic disease. Other features include six oral health chairs, an X-Ray room, a podiatry surgery, consultation rooms, and clinician and student office facilities and spaces.
Professor Kyd says the clinic will feature client-friendly spaces and a well-planned layout to enable multidisciplinary delivery of services.
"It will provide exceptional education and training facilities for students, encouraging learning across disciplines as well as effective teamwork for health outcomes.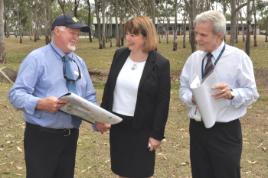 Professors Pegg and Kyd discuss the Clinic plans with Rod Boddice, the Acting Chief Operations Officer, Central Queensland Health Service District
"Local students will now be able to study new undergraduate Allied Health programs without needing to relocate."
CQUniversity Executive Dean Professor Graham Pegg says this is a fantastic training facility for CQUniversity students, and a real coup for the Rockhampton community.
"Not only will allied health students be able to learn their own specialty, they will also receive practical exposure to a wide suite of allied health programs.
"The end result will be a more well-rounded education for students, a more holistic approach to health care in the region, and a healthier community - it really is a win-win."
Professor Pegg says students who study in the regions are more likely to stay and become a professional resource for the regions.
"We need to educate and retain our talented locals to fill the workforce shortages we face," he said.
"Increased student clinical placements in a regional setting will ultimately facilitate more successful recruitment and retention of Allied Health professionals into regional and rural locations."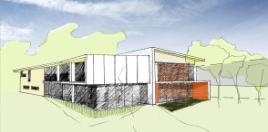 An artist impression of what the new building will look like
A partnership between CQUniversity and Queensland Health will maximise efficiencies and use of resources.
Principal contractor Murphy Buildings Queensland is working on the project, with the facility expected to be complete in June, 2012.
CQUniversity is already one of the fastest-growing universities in Queensland and 2012 is shaping up to be our biggest year yet, with more than 20 new programs on offer. The new Allied Health programs include:
Allied Health (Health Science)
Occupational Therapy
Physiotherapy
Podiatry
Speech Pathology
Chiropractic
Oral Health
Health Professional Education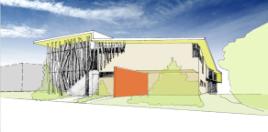 Another artist perspective of what the building will look like