Forum focus on Indigenous Family Violence Prevention
Published on 02 May, 2013
The Queensland Centre for Domestic and Family Violence Research (CDFVR), CQUniversity, will host its 9th annual Queensland Indigenous Family Violence Prevention Forum on May 8 & 9, 2013 at the Mackay Entertainment and Convention Centre, Alfred Street, Mackay.
Thanks to the success of previous years, registrations are now full for the 2013 'Olgeta Yarn Up' event.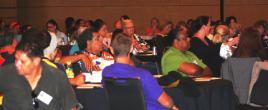 The forum has provided a good platform for discussion in previous years. Day one of the forum will focus on the topical and controversial subject of the Alcohol Management Plans (AMPs).
Palm Island Mayor, Alf Lacey and Mayor of Cherbourg Ken Bone will talk about the impact of the AMPs on their communities. A discussion on the impact of the policy on children, families and communities will follow.
Day two will concentrate on Culture and Healing for children, women and men and will be led by keynote speaker Professor Judy Atkinson, a member of the Healing Foundation.
Director of the Queensland Centre for Domestic and Family Violence Research, Heather Nancarrow said the forum aims to bring community members together to celebrate the good things that are being done by Indigenous people themselves to end domestic and family violence and to provide networking and information sharing opportunities.
This year's 'Olgeta Yarn Up' will include a 'hard yarn' session about the alcohol management plans. Participants from communities across Queensland will have the opportunity to have their say and discuss their own experiences of the policy.
Details for the event can be found on the CDFVR website http://www.noviolence.com.au/forum2013/registration.html or by phoning CDFVR on 49407834.