Mining rehab specialists converge on campus
Published on 05 April, 2013
Around 150 professionals and researchers involved in mining rehabilitation and environmental management are converging at CQUniversity Rockhampton for a major workshop...
This Central Queensland Mining Rehabilitation Group (CQMRG) event has both retrospective and future-focused topics encompassing mine site water management and analysis, mines and farms as neighbours, evaporative fans, hydraulic erosion control, conservation of biodiversity, and monitoring of mining using macroinvertebrates.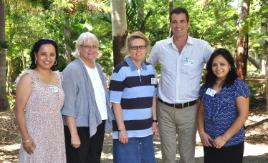 L-R workshop participants included Dr Karuna Shrestha and Assoc Prof Larelle Fabbro from CQUni with CQMRG coordinator Brenda Berry, chairperson Stuart Ritchie and Geeta Gautam Kafle from CQUni (far right)
CQUniversity presenters include Professor Kerry Walsh, Assoc Prof Nanjappa Ashwath, Assoc Professor Larelle Fabbro, Dr Karuna Shrestha, Dr Susan Kinnear and Dr Claire Sellens.
The workshop is being held on campus on Thursday and Friday, with a gala dinner scheduled on the Thursday night across the highway at the Central Queensland Innovation and Research Precinct (CQIRP).
This is the 50th CQMRG workshop to be held over the past two decades. It is being hosted by CQUniversity's Institute for Resource Industries and Sustainability (IRIS).