Students get a feel for occupational therapy
Published on 29 October, 2012
A small but enthusiastic group of students recently visited CQUniversity's new Allied Health Clinic on Rockhampton Campus to familiarise themselves about study and career options in the area of occupational therapy.
The opportunity coincided with 'National OT Week' and included a talk by Associate Professor Monica Moran, the Joint Program Lead for Occupational Therapy. The visitors also had a chance to hear from senior OT students on placement in the clinic from around Australia about their experiences of studying OT and about participating in the interprofessional student teams at the Allied Health Clinic.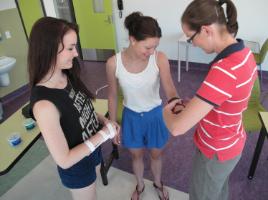 Allied Health Clinic Occupational Therapist Jayne Moyle (right) shows Abby Grentell (left) and Lauren Rixon some of the tools of the profession
Those involved in the 'famil' included Abby Grentell and Lauren Rixon who have just completed their first year of the Bachelor of Health Science (Allied Health), and are considering using this as a stepping stone into the OT degree.
Other interested visitors considering OT as a study option included Monica Diya and Cameron Stevenson.
The Bachelor of Occupational Therapy is a four-year program designed to provide students with the knowledge and skills to practice as an occupational therapist. Occupational therapists work with people who are experiencing barriers to participation in their everyday lives as the result of impairment, disability or disadvantage. They use specific activities and approaches to enable people to participate in their preferred life roles. LINK HERE for details.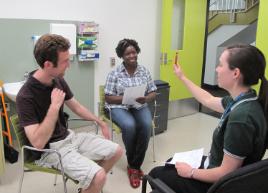 Cameron Stevenson and Monica Diya get some study and career tips from one of the senior OT students at CQUniversity's Allied Health Clinic on Rockhampton Campus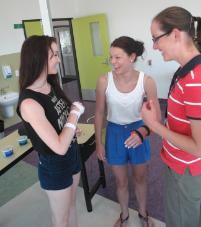 Allied Health Clinic Occupational Therapist Jayne Moyle (right) shows Abby Grentell (left) and Lauren Rixon some of the tools of the profession