Mackay community fosters connection with University
Published on 22 March, 2012
Around 40 members of the Mackay community attended a recent 'Thank you for Your Support' event to acknowledge the support given to CQUniversity by alumni, donors and members of CQCircle, showing there is a strong interest in engaging with the University.
The purpose of the event is to continue to build relationships with alumni in the Mackay area, and to acknowledge the continued support from donors and members of CQCircle.
CQCircle is a community relations program which acknowledges the special relationship or contribution made to the University, by volunteers, long serving staff, donors, honorary awardees, and others who have a strong connection with the University.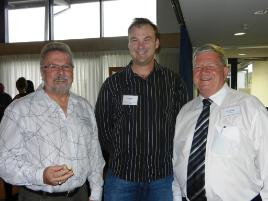 Geoff Fleming, Steven Tye and Mayor Col Meng attend the CQUniversity Supporters event.
Donor Prize and Scholarship Coordinator at CQUniversity Tamsen Clifford-Banks said she hoped the program would assist the University to continue building relationships with its community members.
"Alumni, donors and members of CQCircle are invited to special events on campus each year and are provided with information from time to time to be kept abreast of new developments and achievements across all of our campuses, and to keep communication channels open."
"The program will acknowledge those who have had, and continue to have a connection with the University, no matter how long ago or how recently their connection began," Ms Clifford-Banks said.
Alumni Relations Manager, Anthea Cuddihy said a number of alumni who attended the event were also prize donors.
"These alumni are using their own success to support students studying on the Mackay campus. Alumni also can help steer the direction of the University by giving feedback from their community," Ms Cuddihy said.
"These relationships are very important to the institution."
Pro-Vice Chancellor (Community & Engagement) and Head of Campus Mackay, Professor Pierre Viljoen said the program gave the University an opportunity to thank its supporters, past and present.
"We aspire to become Australia's most engaged University and through this program we hope to honour our current and future relationships with members of our community - something that is a high priority for us at this campus."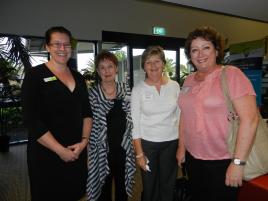 Enjoying a chat are Anthea Cuddihy, Carmel Daveson, Julie Boyd and Cr Di Hatfield.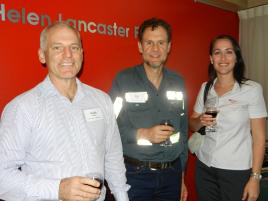 Ralph Johnson, Kim Gebers and Roanna Brady enjoy catching up at the CQUniversity Alumni and Supporters event.