Sydney students meet reps from accounting and financial sectors
Published on 06 September, 2011
The CPA, a global organisation and one of the leading accounting membership bodies in Australia, partnered with CQUniversity Sydney campus to host an information session for students.
This was a fantastic opportunity for students to meet CPA representatives and guest speakers from the accounting and financial sectors. This event reflected the strong relationship between the two institutions and the commitment that CQUniversity has to providing relevant information for students.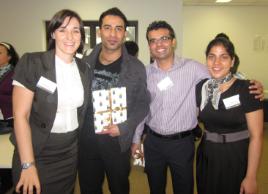 Sydney Campus staff member Eliza Babajews with Muhammad M. Awan, Ankit Pandya and Ginni Uppal. Both Ankit and Ginni are CPA student ambassadors for CQUniversity
By Eliza Babajews and Alison Hensley
External speakers included Mark Hu (BT & A Consultants), Andy Lee (Rabo Bank and CQUniversity Alumni), Amy Yan (ING Direct) and Kim Hwang (CPA), who discussed working life within the financial and accounting sectors and the CPA program.
CQUniversity's Dr Daniel Frimpong, a lead lecturer in Marketing and Accounting and Eliza Babajews, Training, Employment and Career Coaching Coordinator (TECC), presented the 'benefits of studying at CQUniversity' and 'how to enhance employment prospects with the aid of valuble information offered by the CPA'.
A light lunch followed the CPA information session, which gave the students an opportunity to network with the guest speakers. Many students seized this chance and gained first-hand advice on their future career paths.
This event was attended by over 80 CQUniversity Sydney campus students, with comments on the day including "motivating", "career enhancing" and "a wonderful and valuable insight into the accounting profession".
Eliza further commented, "the session provided some essential information for students looking to embark on their career within the accounting and finance industry. It was highly beneficial to hear not only from the CPA, but also from those who are currently working in the sector".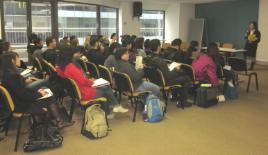 One of the presentations underway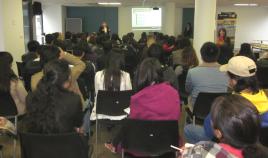 Another of the CPA presentations