Judith, Stuart and Friends kick off CQCM's calendar of events for 2013
Published on 06 March, 2013
CQUniversity's popular Judith, Stuart & Friends series is back in 2013 with the first concert to be held at the Central Queensland Conservatorium of Music (CQCM) on Wednesday, March 13 from 6pm to 7pm.
The free evening will feature performances by CQUniversity senior lecturer, Dr Judith Brown, on the Stuart and Sons grand piano, as well as dance and vocal performances from the Bachelor of Theatre students.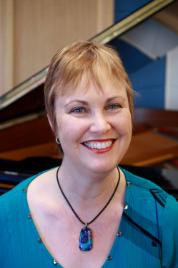 Dr Judith BrownThe theme for next week's event is 'Cold History Case - the Mystery of Beethoven's Deafness.' A lock of Beethoven's hair was bought at an auction in 1994 and subsequent forensic tests were able to pinpoint the reasons for Beethoven's sickness and deafness. The results of these tests were astounding. The mystery will be unravelled through a musical odyssey of his most beloved works.
The Con Friends bar will be open from 5.30pm for a refreshing drink before the concert.
For more information, phone 4940 7800.