Passionate librarian looking forward to 'new chapter'
Published on 29 August, 2012
CQUniversity Mackay staff and students farewelled long-serving librarian Pauline McNee with a special morning tea on Wednesday, August 29 to wish her well for retirement.
Pauline has worked at the Mackay Campus as Library Manager for 17 years and has seen many changes during that time, including the significant growth in size of the campus.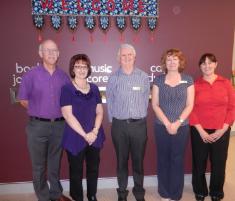 CQUniversity Library staff L-R Director Graham Black, retiring Library Manager Pauline McNee, John Atkinson, Andrea Newton and Michelle Whiley thank Pauline for 17 years of hard work.
"Some of the major highlights during my time at CQUniversity include the official opening of our new two-storey Library (the Technology & Information Resource Centre) by Julia Gillard after six years of planning and development," Pauline said.
Pauline has been a consistent presence at the Library for both staff and students, and says while she is always happy to see students graduate, she is also sad to see them leave.
"I have really enjoyed making friends with a team of dedicated staff both academic and professional, and supporting generations of students with their educational journey," she said.
CQUniversity Library Director Graham Black said Pauline has generously donated her time, passion and skills to many cultural and academic events at CQUniversity including her support of the Library Friends volunteer group and student theatre, in her capacity as Music and Performing Arts Liaison Librarian.
Pauline said she was fortunate to have the support of her Library team and volunteers who made working at CQUniversity an 'absolute pleasure'.
"I have been very fortunate to have the support of a Library Friends volunteer group - the Library Society - who through their fundraising and other activities have made a cultural difference on campus and in the community by providing extra textbooks, laptop computers and furniture for the library," Pauline said.
While Pauline is looking forward to retirement, travelling and pursuing other interests, she will also miss the CQUniversity community.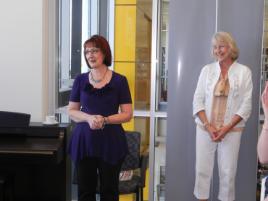 Pauline thanks the CQUniversity community as she prepares to embark on a new chapter."I have loved every minute of my work here but now is the right time to commence the next chapter in my life."