Rotary teams up with Uni to support education in Mackay
Published on 16 March, 2012
The Rotary Club of Mackay North has shown its support for education in the Mackay region by providing two $1000 scholarships for future CQUniversity students.
The scholarships are available to those who wish to study in the area of education, health or engineering.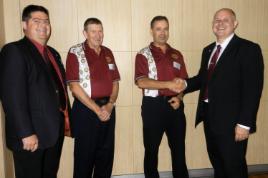 Professor Pierre Viljoen (left) and Professor Scott Bowman (right) with Rotary Club member Alan Woodhead (second from left) and Rotary Club President Chris Bijsterveld
Club President Chris Bijsterveld said members were inspired to develop the scholarships following last year's Rotary conference, where Vice-Chancellor Professor Scott Bowman had spoken about the importance of education.
"Professor Bowman explained that even $1000 could make a huge difference to a student and we decided that it was something that the club would like to become involved with," Mr Bijsterveld said.
"It also aligns with Rotary's aim to promote education, youth development and health worldwide."
Mr Bijsterveld said he was looking forward to working with CQUniversity and local students in making tertiary education more accessible to students in the region.
"We collect money from our local community so we are looking forward to helping out prospective Mackay students by awarding them this scholarship."
Pro Vice-Chancellor (Community & Engagement) & Head of Campus in Mackay, Professor Pierre Viljoen said it was wonderful to see community groups like Rotary helping out future students in the Mackay region.
"These scholarships will go a long way for students who may need help buying textbooks, paying for travel to campus each day or even just with the everyday expense of University," Professor Viljoen said.
"We really appreciate the generous support of the Rotary Club of Mackay North and their willingness to help those in the Mackay region gain more from higher education."
For more information on the scholarships, contact the Office of Development and Graduate Relations on 4923 2786.