Bundy Campus wins 'Science Education Partnership and Community Science Award'
Published on 12 October, 2011
Congratulations to the team at CQUniversity Bundaberg who have won a Science Education Partnership and Community Science Award as part of the 2011 Peter Doherty Awards for Excellence in Science and Science Education.
The Doherty Awards are used by Education Queensland to acknowledge people and institutions working with teachers to improve science education for children.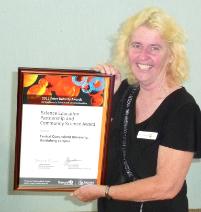 Dr Rosie Thrupp accepted the award on behalf of the campus
These awards are named after Professor Peter Doherty, a Brisbane-born Nobel Prize-winning scientist who was educated at Indooroopilly State High School and the University of Queensland.
Bundaberg Campus Education academic Dr Rosie Thrupp accepted the award on behalf of the Campus, during a ceremony held recently at Brisbane Customs House.
"I do admit to excitement," Rosie says. "I feel science is an important aspect of learning for all children and work with a passion toward this.
"The facilities, staff and students of CQUniversity enable me to work with this passion. The acknowledgement of this partnership is important to me."
Bundaberg Campus Campus staff and students have been busy hosting science-related events, including:
- MIST (Maths, Science, ICTs and Technology (design) conference for children from Years 6 to 8;
- Regional conference for teachers of science;
- TREK (Teaching robotics for Science) program in schools;
- Hosting science events on campus with Education Queensland Science Sparks team.