Family tragedy sparks Louise's interest in the caring professions
Published on 14 March, 2013
Louise Thurecht has had a passion for helping people as long as she can remember and a family tragedy focused her decision to study Occupational Therapy at CQUniversity...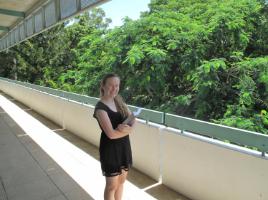 Louise Thurecht on Rockhampton Campus
As a young girl she witnessed her father's battle with terminal cancer and observed the care and support of the medical professions.

LINK for a larger image
"It was during this time that my career aspiration of becoming an occupational therapist grew and the goal of helping people in need and rehabilitating those after sickness and trauma became something of great importance to me," Louise says.
Despite facing challenges during her schooling at St Ursula's College in Yeppoon due to her father passing away, Louise got involved in her school and community life through Anzac Day marches, Clean-Up Australia Day, charity drama events, debating, cross-country running, and the Rotary Club secondary schools' quiz. She also won a senior school Oratory Competition.
Louise also succeeded in getting a high OP score and is progressing into University studies this year with the support of the Vice-Chancellor's Merit Scholarship.