Book worms rejoice, there's plenty on offer at CQUni book sale
Published on 02 July, 2013
Whether you're after textbooks, biographies, cookbooks or juicy romance novels, the CQUniversity Library Society's annual second-hand book sale is sure to impress even the fussiest of readers.
The book sale will be held in conjunction with CQUniversity Mackay's Open Day celebrations on Sunday, August 18.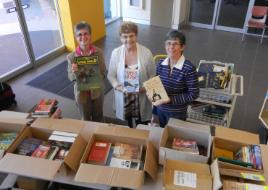 CQUniversity Library Society members Helen Page, Dawn Eastwell and Jocelyn Wood sort out the huge variety of books on offer. Library Society members, who will celebrate the group's 20th anniversary in November, have been busy collecting and sorting a variety of good quality second-hand books in preparation for the sale.
Book sale coordinator and committee member Kati Norman said they will still be accepting books from the community up until August 2.
"We're looking for textbooks, children's classics, fiction and non-fiction books,"
"If the books are in relatively good condition, we are happy to take them."
The Library Society is a volunteer organisation run by community members to raise funds for the CQUni Mackay Campus Library to help purchase resources.
They also offer bursaries to local students to help them cope with the financial burden of university study.
Guidelines for book donations:
no dictionaries, encyclopaedias or magazines
no pick-ups - please drop books off during library opening hours
For more information, please call the Library Society on 4940 7536.