Sydney Campus represented at major Australia-India event
Published on 06 September, 2011
Ten staff from CQUniversity Sydney recently attended the 2011 Gujarat NRE Australia India Business Council (AIBC) NSW Australia India Address. This year marks the 25th anniversary of the AIBC.
The dinner attracted over 500 business and education leaders, government representatives, key stakeholders and dignitaries from Australia and India.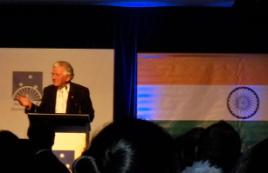 Former PM Bob Hawke at the podium
By Susan Robertson
The MC for the evening, former Australian cricketer Dean Jones, along with others, conveyed stories on how cricket had gone some way to help form close bonds between India and Australia.
AIBC NSW President Dipen Rughani welcomed the gathering, highlighting the key AIBC, NSW activities over the last 12 months. His Excellency Sujatha Singh - High Commissioner of India to Australia spoke on behalf of the Indian government and Dr Craig Emerson- Minister for Trade represented the Australian government. Deputy Premier of NSW Andrew Stoner and leader of the NSW Opposition John Robertson also spoke.
Apart from the sporting links, the speakers acknowledged the rapid growth in trade and the negotiations on a free trade agreement between the two countries. Bilateral trade between the two countries is in the order of $20 billion each year.
Special guest, former Prime Minister Bob Hawke established the AIBC with former Prime Minister of India, Rajiv Gandhi in 1986. Mr Hawke spoke of his admiration for Rajiv Gandhi, the close friendship shared by the two Prime Ministers and his sadness over Rajiv's untimely death.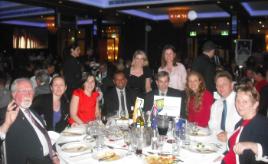 Sydney Campus reps enjoy the evening. LINK for a larger image
Entertainment for the evening was provided by the Stars of Bollywood dancers who were energetic and colourful in true Bollywood tradition. Audience participation was encouraged and saw Eliza Babajews, TECC Coordinator, and Clare Hattersley, Director of Studies, up on stage dancing.
Overall, the evening showed the long established ties and links between India and Australia are stronger than ever.