Will there be a fourth wave of migration from India?
Published on 04 April, 2012
Will there be a fourth wave of migration from India to Australia? .
That was one of the key topics addressed by Executive Director of the International Education Association of Australia Phil Honeywood, in his role as guest speaker at the 2012 Dr Martand Joshi Lecture at CQUniversity Melbourne in late March.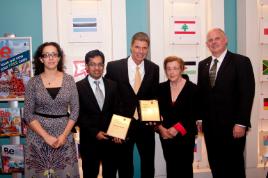 L-R Suman Joshi, awardee Tiju George Thomas, awardee Professor David Robinson, Zofia Joshi and VC Professor Scott Bowman
Mr Honeywood, a former Victorian Minister for Tertiary Education and Training and Multicultural Affairs, presented this lecture titled India - Three Waves of Migration to Australia: Lessons Learnt/Pointers to the Future.
The annual Dr Martand Joshi lecture program has been established to recognise the contribution made by Dr Joshi in promoting international education, intercultural learning and understanding in Australia. The late Dr Joshi was well regarded for his work in the fields of geochemistry, mineralogy, crystallography and petrology. He was also renowned for his understanding of and associations with numerous cultural, religious, professional and community organisations in his role as Honorary Consul of India in Victoria.
Mr Honeywood discussed the 'shining' new India, promoted as a future global super power and as a country of unrestricted opportunities and achievement.
"There's dynamic new professionals and careers to reflect conspicuous consumption ... and a newly affluent middle class," he said. "What about the trickle down beyond the 15 per cent?"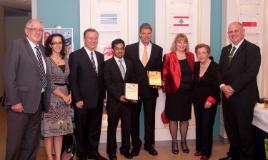 Campus Head Darryl Stewart, Suman Joshi, guest speaker Phil Honeywood, Tiju George Thomas, Professor David Robinson, DVC Professor Jennelle Kyd, Zofia Joshi and VC Professor Scott Bowman
Mr Honeywood spoke about the wave of migration to Australia in the late 1960s and early 1970s, when young 'elite institution' professionals were allowed to migrate under the White Australia policy.
In the early 1980s, he said, Australia sought skilled trades and technical experts from Asia, and the Indians who came were from a different background compared with the first wave.
In the early 2000s, full-fee-paying Indian students comprised a larger third wave. They were consumers seeking a migration outcome.
Mr Honeywood questioned whether there would be a fourth wave ... "if so, will this take us full circle?". He wondered if the first three waves of Indian migrants would form one social group.
Meantime, the 2012 Student Award in memory of Dr Martand Joshi has been presented to CQUniversity Brisbane-based Master of Information Technology student Tiju George Thomas, recognising him as the highest-achieving graduate of 2011. The award is valued at $1000.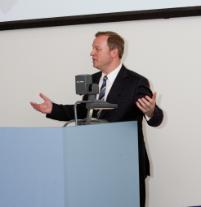 Guest speaker Phil Honeywood
Mr Thomas came to Australia from his home town of Kerala with some very definite plans. He had always had a knack for software development and programming and had been working in the field for three years. He wanted to advance his knowledge and experience in the field and move from basic programming on to software development and architecture.
Impressed by CQUniversity's quick processing times, and flexible study arrangements, Mr Thomas was able to make use of the third term and extended study load to finish his MIT (Software Development) in record time.
Even with the extra course load, he still managed to achieve exemplary results - straight High Distinctions. He credits his success with the support and encouragement he received from his mother, and the academic discipline she instilled in him from an early age.
Tiju was a familiar presence on campus, and was well liked and respected by staff and students. His friendly and sincere manner was evident at all times - from classroom interaction to social events like multicultural days to participating in employment workshops.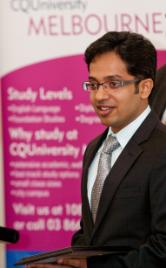 Tiju George Thomas accepts his award
Tiju is currently working at the University of Queensland as a systems programmer.
The 2012 Staff Award in memory of Dr Martand Joshi, and recognising research into international education, was presented to David Robinson, an Adjunct Professor based at CQUniversity Gold Coast. This award is also valued at $1000 (for attendance at an approved conference).
Professor Robinson lectures in leadership and business strategy at the Gold Coast Campus, where he also heads postgraduate research, with the primary focus on ethics and sustainability.
David has been with the Gold Coast Campus for 13 years. He was previously at Bond University and the Queensland University of Technology in Australia, and at Rhodes University, South Africa, Nelson Mandela University, South Africa, Shanghai Jiao Tong University, China, and the National Sun Yat-Sen University, Taiwan.

VC Scott Bowman chats with Suman and Zofia Joshi
He has lectured and consulted in: Business administration, leadership, ethics, research methods, industrial engineering, international business, marketing, human resources, operations management, philosophy, psychology, accounting, packaging, entrepreneurship, organisational behavior, innovation and creativity, strategic management, sales management, and business plan development.
His PhD is from Rhodes University in South Africa (2003) and his work has been published extensively, including the Journal of Business Ethics.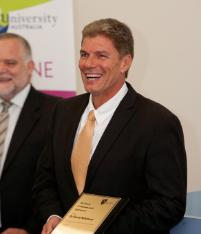 Awardee Professor David Robinson