Chantel is strong advocate for young women in mining
Published on 20 June, 2013
CQUniversity has supported young Gladstone women interested in the minerals and energy industry, during a Queensland Minerals and Energy Academy It's all about ME (Minerals and Energy) program...
The QMEA event was held recently at CQUniversity Gladstone, catering for 80 Year 10 girls interested in engineering and career options.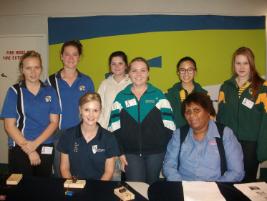 CQUniversity's second-year Mechanical Engineering student Chantel Selmanovic (seated, left) with Arrow Energy Community Officer for Gladstone Melena McKeown (seated, right) and high school students at the event. Second-year Bachelor of Mechanical Engineering (Co-op) and Diploma of Professional Practice (Engineering) student Chantel Selmanovic took part in the program, providing first-hand knowledge and advice on her experience as a University student. She also took part in the hands-on demonstration of Direct Motor (DC) activity.
The program is designed to increase student awareness of the minerals and energy industry and the career opportunities that exist in the resources sector, as well as forming part of the strategy to address skills shortages faced by the sector, promoting industry diversity and ensuring sustainability.
Students mixed with industry representatives and were provided with career information sessions, as well as hands-on activities including spot welding, oil shale projects, environmental science testing and experiments.
For more information visit http://www.qmea.org.au/projects-2/its-all-about-m-e/ or phone Tammy Grady on 0428 750 029.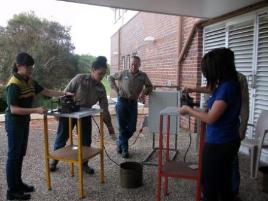 The students take part in welding workshops.