Prospective scholarship recipients meet with panel
Published on 01 March, 2013
The first round of interviews for prospective recipients of the BMA Community and Indigenous Scholarship Program were held recently, in anticipation of the start of the university year.
Vincent Cosgrove (Head of External Affairs at BMA), Professor Pierre Viljoen (Pro Vice-Chancellor, Community & Engagement and Head of Campus CQUniversity Mackay) and Narelle Pearse (Regional Economic Development Corporation CEO) were part of the panel who met with students in Mackay to discuss their future study at CQUniversity.
There are 10 Community Scholarships and five Indigenous Scholarships of up to $5000 per year to cover educational expenses for the duration of the recipients' study programs.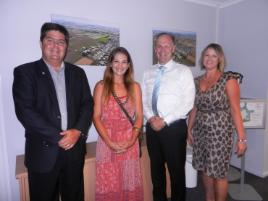 CQUniversity Pro Vice-Chancellor (Community & Engagement) and Head of Campus Mackay, Professor Pierre Viljoen, scholarship recipient Emma Scott, Head of External Affairs at BHP Billiton Mitsubishi Alliance (BMA) Vincent Cosgrove and CEO of Regional Economic Development Corporation Narelle Pearse. The scholarship program was developed as part of a joint commitment between CQUniversity and BHP Billiton Mitsubishi Alliance (BMA) targeting students enrolling in non-mining related study programs like nursing, teaching, healthcare or business.
Professor Pierre Viljoen said one of the requirements of the program was that successful students will have demonstrated the need and desire to contribute to their local region.
"The prospective recipients who were interviewed, many of whom have chosen to study in the areas of health, education or business, have all shown their enthusiasm in giving back to their community, both while they are at university and upon graduation," Professor Viljoen said.
Mr Cosgrove said the panel members were impressed by the standard of applicants interviewed, representing BMA's key communities of Emerald, Blackwater, Moranbah and Dysart.
"It was great to hear their stories and how they plan to use their studies to give back to Central Queensland - I'm confident we have some very worthy candidates for our first round of scholarships," he said.
Ms Pearse said the scholarships would support students who want to study, work and live locally.
"The scholarships will alleviate the skills shortage and build capacity in key service areas throughout BMA's communities," she said.
Five Indigenous applicants will meet with panel members including Professor Bronwyn Fredericks, CQUniversity's Pro Vice-Chancellor (Indigenous Engagement) and BMA Chair in Indigenous Engagement, and Paul Travers (BMA Indigenous Relations) in Rockhampton at the end of the month.