CQU's Australian Idol singer still jazzed-up
Published on 13 August, 2004
It's not necessarily curtains for Central Queensland University (CQU) student Ngaiire Joseph, who missed advancing as a finalist to the next stage of Australian Idol this week. The Jazz Studies student at the Central Queensland Conservatorium of Music at CQU Mackay is eligible for a second shot at the Idol crown in an upcoming Wild Card show.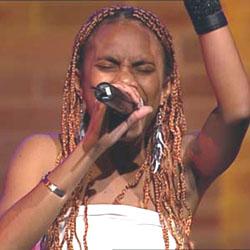 Formerly of Lismore, New South Wales, Ngaiire has lived in Mackay for nearly two years and is mid-way through a her studies The second-year jazz vocalist student said discussions with her lecturer Derrin Kerr convinced her to audition for the 2004 Australian Idol on Network 10.
"I auditioned last year for a bit of fun, but this year I took it a little more seriously," she said.
CQCM Jazz Studies coordinator Glen Hodges said some of Australia's most respected jazz performers from Brisbane, Melbourne and Sydney had recognised Ngaiire's talent since she began performing regularly with the CQCM jazz ensembles.
"She has been identified as an outstanding vocalist by many of the CQCM's visiting jazz artists," he said.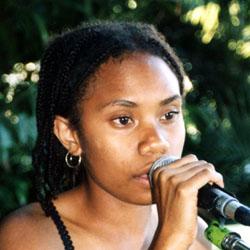 Ngaiire has performed with the Bachelor of Jazz Studies ensembles throughout Central Queensland and is a regular on Hamilton Island where she performs as part of the high-profile Conservatorium jazz presence on the island.
Asked by the show who her musical idols were she said, "all the old school jazz and soul artists and musicians." CQU staff and students have encouraged each other to support Ngaiire - an email circulated this week inviting everyone to vote.