Applications sought for QAL-CQUniversity scholarship
Published on 11 July, 2011
Applications are now open for the annual QAL-CQUniversity scholarship, open to Gladstone-based first-years studying engineering, business, informatics or science degrees.
Tamsen Clifford-Banks from CQUniversity's Office of Development and Graduate Relations recently met Courtney Brown at Queensland Alumina Ltd's (QAL) Gladstone refinery, to discuss the launch of the 2011 QAL Scholarship, offered to an excelling Gladstone student throughout their tertiary education.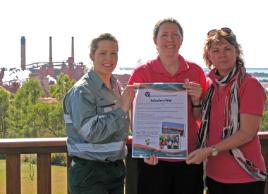 Tamsen Clifford-Banks (centre) discusses the annual scholarship with QAL representative Courtney Brown (left) and Marg Manion from CQUniversity's Office of Development and Graduate Relations
Selection of the QAL scholar is based on academic excellence, community involvement and extracurricular activities.
The QAL scholarship initiative has been in place since 1975 and this year's selected student will receive $5000 per annum for the duration of their degree.
QAL Managing Director Phil Campbell encourages all eligible students to apply for the scholarship.
"The financial burden of university education can be quite stressful for a student and their family, so we are well aware of the benefit the QAL scholarship can provide to the successful student," Mr Campbell said.
"It is a mutually beneficial partnership between QAL and CQUniversity students. I trust that we are investing in Gladstone's future by assisting a student to develop into a valued and skilled member of our community."
Ms Clifford-Banks, the Donor Prize and Scholarships Coordinator, said QAL's scholarship provides a great opportunity for students.
"This substantial scholarship will have a great impact on a student's educational experience, reducing financial stresses, allowing them to concentrate on their studies. The knowledge that their education is being supported by a major employer in the Gladstone region is also a great encouragement."
"It is initiatives like these that help students realise their true potential, whilst also opening career doorways between students and industry," Ms Clifford-Banks said.
Application forms and guidelines can be collected from CQUniversity Gladstone, or downloaded from www.cqu.edu.au/scholarships and close on July 31.
Scholarships and Prizes are just one of the ways that the University and our students can benefit from partnerships with industry. Staff are encouraged to refer any industry contacts to the Donor Prize and Scholarships Coordinator on 4923 2786 to discuss potential scholarship opportunities that will benefit our students.