Gladstone hosts teens keen to STEM into academic writing
Published on 16 May, 2012
CQUniversity Gladstone has developed a course in Academic Writing for Year 10 STEM (Science, Technology Engineering and Mathematics) extension students, in partnership with Toolooa High School.
The primary focus is to support the development of academic writing skills and analytical skills suitable for senior studies and of course university.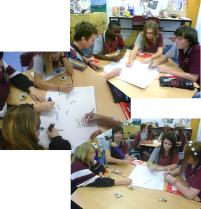 Toolooa High students focus on an academic writing workshop activityThe Toolooa students can study the course at their school but have occasional visits to Gladstone Campus for certain components.
CQUniversity staff involved include Val Cleary (STEPS) and Karen Simon (Library).