No fear factor for CQUni Orientation in Emerald
Published on 29 February, 2012
As new students arrived at CQUniversity Emerald Learning Centre for orientation recently, student mentors and centre staff worked overtime to ensure there was no 'fear factor'.
Student mentors assist the new first-year students to settle into University life. They provide a support network to the students to reduce stress as they begin their tertiary education.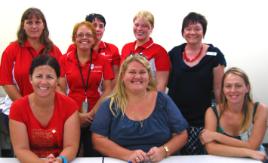 Students are welcomed on Orientation Day. LINK for a larger image
The Operations and Project Manager for CQUniversity Emerald, Gai Sypher said that distance student attendance was up this year, with a large cohort of nursing students attending the Orientation Day.
"Orientation is not only a great opportunity for students to become familiar with their campus, local facilities and classmates. It's also a time to learn essential study skills to help them through their all important first sessions," Ms Sypher said.
"Orientation is also important because it shows students there are lots of people around to help them out. We try to remove some of the fear associated with starting a new venture and to build their self confidence."
Emerald CQUniversity Learning Centre offers excellent facilities in a small friendly environment and encourages all external students to make use of the services on offer.