A spring of wellbeing bubbles through Bundy Campus
Published on 27 July, 2011
A spring of wellbeing has been bubbling through CQUniversity Bundaberg, thanks to some enthusiastic staff members who have been encouraging others to relax and stay healthy.
STEPS Lecturer Dr Wendy Davis was inspired to start a workplace singing group called MusiCQUe, after attending a Happiness and its Causes conference in Brisbane. Wendy has been contributing her experience as a professional pianist and choral accompanist and the group has been meeting weekly.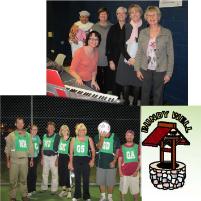 Images showing the netballers, choir members and the 'Bundy Well' logo
"The benefits are immediately visible. It's a great opportunity for staff from various working areas to get away from their computers and phones and spend an hour together as a community in wellness while having a great time," Wendy says.
Meantime, Bundaberg Campus has started a mixed social netball team for evening competitions and health promotion lecturer Dr Wendy Madsen uses a 'Bundy Well' newsletter to promote other wellness activities on campus, including relaxation classes and meditation sessions.