Asset performance once again on the agenda in Gladstone
Published on 14 March, 2012
Gladstone is set to host its third CAMM event in three years, helping businesses, industries and organisations extract the maximum performance and value from their assets.
The Conference on Asset and Maintenance Management 2012 will once again be hosted at CQUniversity Gladstone on May 4, with lead-up workshops on 'Asset Management' on May 2 and 'Reliability' on May 3.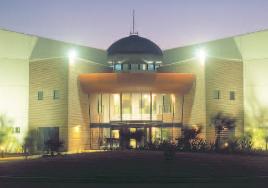 The conference venue - the Leo Zussino Building at CQUniversity Gladstone
Registration forms are available via g.chattopadhyay@cqu.edu.au or 07 4970 7602.
Last year, around 130 delegates participated, representing power generation, railways, process industries, regional council, mining, ports, consulting and many other industries, professional bodies including Asset Management Council, Engineers Australia and Australian Society of Operations Research, and universities including CQUni, Swinburne, Griffith and QUT, as well as government and wider community representatives.
Conference Chair Gopinath Chattopadhyay says there are numerous examples every year of outstanding achievement by academics, researchers, consultants, students and sponsoring industries in the best practices, research and application in related disciplines.
"These examples are of such high value that it is to the advantage of industry and universities to make the results available to a wider community," he says.
Keynote speakers for 2012 include Glen Schumacher (Improving the bottom-line using Leadership in Asset Management); John Abbott (Improving shareholder value through Asset Management); and Ajay Kapoor (Wheel-Rail Interface Management).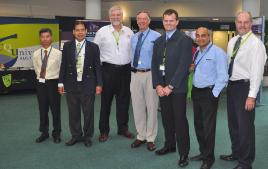 Professor Chattopadhyay (second from left) with key participants during the 2011 event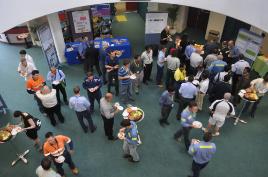 Networking is a strong feature of the CAMM program