Indigenous students gain from mentoring program's transformative impact
Published on 01 July, 2013
CQUniversity is one of 16 universities across Australia helping to drive the educational achievements of Indigenous students to new heights, through the Australian Indigenous Mentoring Experience...
An annual report released by AIME shows Aboriginal and Torres Strait Islander high school students who participated in the intensive coaching, leadership and mentoring program, progressed from year 10 to year 11 at a higher rate than their non-Indigenous peers.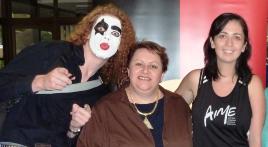 CQUniversity student Daniel Shaw (dressed up for Relay for Life), Prof Bronwyn Fredericks and Jess Timms are supporters of the AIME program.The report also shows the transformative impact of the AIME program extends to the tertiary level.
The year 9 to university progression rate for AIME students was 22.1 per cent - nearly six times the national Indigenous average of 3.8 per cent and approaching the national non-Indigenous average of 36.8 per cent.
CQUniversity has joined the AIME program, strengthening links between the University and local high schools in Central Queensland.
CQUniversity's Pro Vice-Chancellor (Indigenous Engagement) and BMA Chair in Indigenous Engagement, Professor Bronwyn Fredericks said students at CQUniversity had been mentors for local high school students, to offer them the skills, opportunities, belief and confidence to finish school and further their education.
"CQUniversity has one of the highest proportions of Indigenous students in Australia - around double the national average - and the AIME program is helping to support young people to achieve their academic goals."
AIME Founder and CEO Jack Manning Bancroft said the University is already playing a part in supporting their local Indigenous students to excel.
"It's pretty incredible to be able to bring the AIME program to Indigenous kids in Central Queensland thanks to our partnership with CQUniversity," he said.
"When a group of passionate and committed people get together with a common goal, just like the staff at CQUniversity, you're bound to see positive results."
CQUniversity students who are interested in being an AIME mentor can find more information at http://www.aimementoring.com/ or by emailing AIME Program Manager, Darren Brady db@aimementoring.com.
The AIME Annual Report is available at http://www.reports.aimementoring.com/.