Uni once again supports 'birthing kits' project
Published on 22 August, 2011
CQUniversity has once again supported the Zonta Birthing Kits Assembly Day initiative, helping to benefit women in developing countries.
Birthing kits have the basic requirements for a clean and safe birth, including a sheet, soap, gloves, cords, scalpel and gauze squares, contained in a press-seal bag. They are light, small, water resistant and simple to use. This year's packs are being sent to Afghanistan.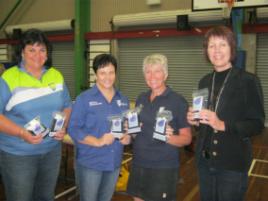 Zonta's Marie Cameron (right) thanks Midwifery academics Annie Eaton (left) and Elaine Jefford (second from right) and Medical Sonography student Amanda McGill (second from left) for helping pack birthing kits.
The University sponsored 800 kits for the recent Birthing Kits Assembly Day held at North Mackay High School.
Our Mackay Campus staff and students also helped out, alongside Queensland Health employees and students, teachers and parents who were involved via Zonta Clubs at North Mackay High and Whitsunday Anglican School.
More than 40 volunteers took part and 2400 birthing kits were packed in around 2.5 hours.
The Assembly Day was organised by the Zonta Club of Mackay. Volunteer support was co-ordinated by Marie Cameron, who is President of the Club and who works as a business services advisor for Hail Creek Mine. Marie is also juggling roles as a CQUniversity tutor and Business honours student who is currently studying and researching employment engagement.
One of the participants, Amanda McGill, was the Zonta CQUniversity STEPS 2011 scholarship recipient, who is now enrolled as a Medical Sonography student.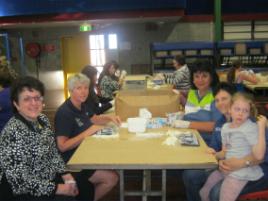 L-R Zonta Mackay's Vassie Comino and CQUniversity's Elaine Jefford (left of table) with Annie Eaton, Amanda McGill and her daughter Evelyn
UNICEF and the Safe Motherhood Organisation estimated in 1996 that 585,000 women died annually in childbirth. Developing countries accounted for 99% of these deaths. For every woman who dies in childbirth, probably 30 incur injuries and infections - many of which are often painful, disabling, embarrassing and lifelong.

ZONTA BIRTHING KITS provide for a clean birth that decreases the risk of death from infection and bleeding. 60 million women give birth each year with the assistance of a Traditional Birth Attendant or no assistance at all.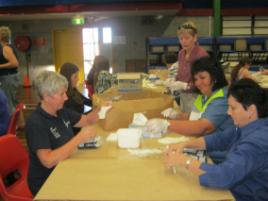 Packing of the kits