School-age musicians have access to Conservatorium Academy in Rockhampton
Published on 03 August, 2011
CQUniversity's Conservatorium Academy is now accepting Term 3 enrolments for its jazz and contemporary music training program for school-age children in Rockhampton.
Places are available for singers, saxophonists, trumpeters, trombonists, pianists, guitarists, bassists, drummers and other instrumentalists.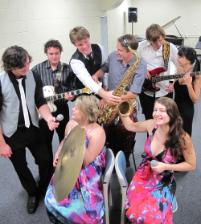 Places are available for singers and a range of instrumentalists
Classes will be held on Monday afternoons from 4pm-5.30pm (excluding public holidays) at the Central Queensland Conservatorium of Music building (5) on CQUniversity Rockhampton Campus.
Full fee scholarships are available to students from eligible schools. Places are limited but details about enrolments are available via 4940 7800.
The Conservatorium Academy aims to provide high quality ensemble training in jazz and contemporary popular music, a form of tuition not readily available in most school music programs.
Participating students will have the chance to perform through regular concerts and special events in the Rockhampton region.
CQUniversity's Dr Derrin Kerr says the aim is to provide "high energy, fun classes taught in a friendly and encouraging atmosphere".
"Students will have access to professional facilities and outstanding teachers and tutors."