As mining churns, it's Zobaidul's turn to shine
Published on 25 June, 2013
Some pundits claim the resource sector boom has reached its peak and the only way is down, with the possibility of more mine closures.
Cometh the hour, cometh the academic with a perfect skill set to observe the churning and turning of the sector.
CQUniversity's Dr Zobaidul Kabir has been building his reputation in areas including the social impact assessment of mine closure, natural resource management, Greening Business, social planning, and community engagement.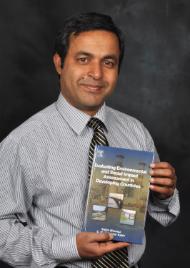 Dr Zobaidul Kabir with his new book
He's the co-author (with former CQUni academic Dr Salim Momtaz) of a new book from international publisher Elsevier, entitled Evaluating Environmental and Social Impact Assessment in Developing Countries. LINK for more book details
And he's a speaker on 'manging cumulative impacts in a wider context' for the second annual 'Social Licence and Community Engagement' conference scheduled in Brisbane at the end of August. LINK for conference details
Dr Kabir has also been successful with other book chapters and journal articles in his field of sustainable regional development.
The former Bangladeshi civil servant, UN Population Fund employee and scholar arrived in Australia on an AusAID scholarship around a decade ago. He gained his Australian postgraduate qualifications via ANU and the University of Newcastle before arriving at CQUniversity just over a year ago. He's now a Postdoctoral Research Fellow and member of the International Association of Impact Assessment (IAIA), Environmental Institute of Australia and New Zealand (EIANZ) and Planning Institute of Australia (Environmental and Social Planning chapters).
Evaluating Environmental and Social Impact Assessment in Developing Countries is promoted as a valuable reference book for practitioners and researchers conducting research in (and developing studies on) environmental science and management and environmental and social impact assessment.
The back cover blurb notes that the book uses: 'a novel and integrated approach to evaluate the effectiveness of environmental and social impact assessment systems, especially in developing countries ... Application of this framework and lessons learned from Bangladesh will help determine whether the environmental impact assessment (EIA) is achieving its intended goal of sustainable development in developing countries'.