Chiropractic Science students gather for first program outside capital city
Published on 01 March, 2012
CQUniversity Mackay's new cohort of Chiropractic Science students gathered to start their degree this week, providing a milestone for the first program of this type available outside a capital city...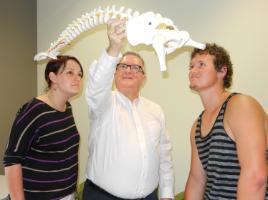 Professor Phillip Ebrall gives new chiropractic students Melissa Pope (right) and Theunis Nieuwoudt (left) a taste of what they will learn this year.
Professor of Chiropractic Science Phillip Ebrall says there's a great mix of students, from all walks of life. They are mainly from throughout the CQ region but one student has moved up from Melbourne. With enrolments being finalised, around 15 students are involved.
Professor Ebrall says local support has been impressive, with 30 chiropractors from the Mackay area attending orientation day. The new chiropractic program is being developed with significant input from industry.
He says it's critical that specialised health programs are available to students in regional areas of Australia.
Vice-Chancellor Professor Scott Bowman agrees, saying Queensland has been crying out for a chiropractic course as there is no course in Brisbane or anywhere else in Queensland.
"This will be an exciting addition to Mackay's growing suite of Allied Health programs, including the complementary disciplines of Medical Imaging and Sonography, which will provide professionals to service Queensland's rapidly growing population hotspots," Professor Bowman said.
CQUniversity has pledged to ensure its Chiropractic Science programs will be evidence-based, wellness-focused and fully engaged with external professional accreditation bodies.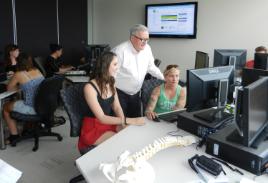 Ashley Thomas, Professor Phillip Ebrall and Kylie Parkinson take part in the first week of their Chiropractic Science course