Teens converge in Gladstone, focus on energy for the future
Published on 27 July, 2012
Around 80 senior school students from the Gladstone, Tannum Sands, Rockhampton, Biloela and Moura areas have converged at CQUniversity Gladstone Campus to focus on energy for the future.
Representing seven schools, the students attended the Queensland Minerals and Energy Academy (QMEA) Energy for the Future event.
LINK HERE for more photo highlights.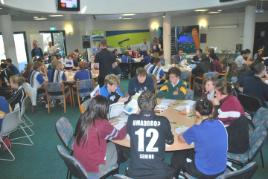 Students were split into groups, each representing a different country, and were asked to provide feedback about energy needs stretching across the next 50 years. Energy sources discussed included hydro electricity, wind power, nuclear, biomass and solar.
Using guidance from technology experts (CQUni engineering students and industry representatives) and a country data matrix, the students formulated action plans for presentation.
During their pitch, students were required to formulate and justify an appropriate energy mix for their country. Their pitches outlined what energy technologies should be implemented and what percentage of future electricity consumption can be met by each designated technology.
Having made their pitches, each group answered questions from the audience of company representatives (industry personnel) from each electricity technology and other interested parties (other students and CQUni students).