Gladstone art exhibition reveals Australian stories
Published on 20 June, 2013
Australian artists often present revealing perspectives on our understandings of ourselves, others and the world we share.
The rich variety of Australian stories told through contemporary art was the theme of a recent art exhibition.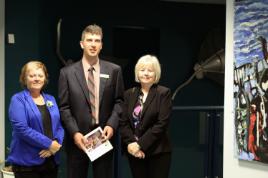 Independant Member for Gladstone Liz Cunningham, with CQUniversity's Owen Nevin and Sue Smith.CQUniversity Gladstone celebrated its 35th anniversary with the exhibition drawn from the University's own art collection, entitled '35 x 35: Works from the CQUniversity Art Collection'.
The event attracted Gladstone leaders and residents, as well as staff and students from the Gladstone Campus, who were treated to a guided tour of the artworks by CQUniversity's Art Collection Manager, Sue Smith.
"The University has been collecting art for 40 years, recognising the crucial role artists play in telling a variety of Australian stories and inspiring creativity and enquiry," Ms Smith said.
She said the artworks on view referred to diverse topics including Queensland's economic development, appreciation of the natural environment, social commentary on Aboriginal self-determination, and astronomical exploration of deep space.
"The variety of works in what is now a collection of around 700 works is amazing, and emphasizes the University's view that art is a way of bringing people together through sharing diverse ways of looking at the world," she said.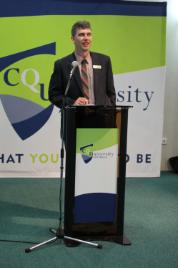 CQUniversity's Owen Nevin officially opens the Gladstone art exhibition. ...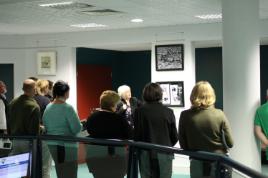 Visitors to the exhibition learn more from CQUniversity's Art Collection Manager Sue Smith during the floor talks.