Music lovers welcome at 'Big Night In' on Rockhampton Campus
Published on 10 April, 2013
Music lovers are welcome at the Big Night In concert at CQUniversity Rockhampton Campus, from 7.30pm on a Friday evening (April 12).
Tickets are available at the door but phone bookings are also available via 4940 7800.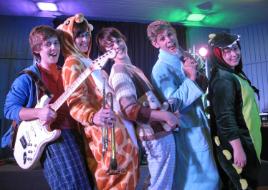 Hamming and jamming it up ahead of their 'Big Night In' are L-R Zak Scerri, Monique Pearce, Elissa Finn, Dann Frost and Natt Day
Entry is Adults $12, Concession $8 and Children $5 for this showcase of the talents of jazz and popular music students from the Bachelor of Music program.
This energetic concert features fast moving and high energy sets of jazz, pop and rock standards.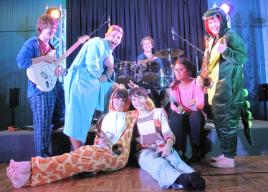 L-R Zak Scerri, Dann Frost, Monique Pearce, Elissa Finn, Ben Harper, Ana Tuilovoni and Natt Day