CQUni and BMA strengthen engagement, discuss diversity
Published on 20 June, 2013
CQUniversity's Pro Vice-Chancellor (Indigenous Engagement) and BMA Chair in Indigenous Engagement Professor Bronwyn Fredericks recently visited BMA's corporate office in Brisbane and offered a facilitated discussion in their board room on 'diversity in the workplace'.
Prof Fredericks spoke about the nature of diversity, offered examples of best practice and said that employers, organisations and co-workers need to ask themselves 'why not', rather than 'why', when considering diversity within work environments.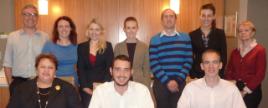 Professor Bronwyn Fredericks visits BMA's corporate office in Brisbane. "I was impressed with their genuine interest in how to increase the number of people from diverse backgrounds in their workforce and their willingness to discuss practical strategies for recognising and valuing diversity within their various work environments," Professor Fredericks said.
During Professor Fredericks' time in Brisbane she also visited CQUniversity's Brisbane Campus and met with BMA's Paul Travers (Indigenous Engagement) and Executive Director of Indigenous Partnerships with the Department of Education, Training and Employment (DETE), Angela Leitch.
They discussed the Queensland Government's Indigenous education initiatives and possible opportunities for DETE, BMA and CQUniversity to work together to improve education pathways for Indigenous people.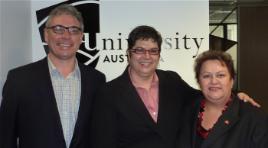 Paul Travers (BMA), Angela Leitch (DETE) and Prof Bronwyn Fredericks (CQUniversity). "BMA is committed to increasing opportunities for Indigenous people and working with others such as CQUniversity to better deliver education outcomes on the ground," Mr Travers said.
"I look forward to CQUniversity strengthening our relationships with Government and BMA as we work towards 'closing the gap' in education outcomes between Indigenous and non-Indigenous Australians," Prof Fredericks said.